Green Schools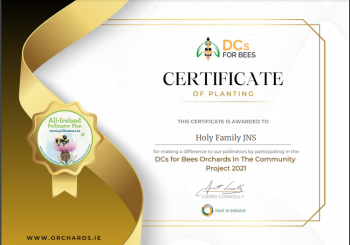 Biodiversity
We are currently working on our 5th Green Flag which is all about 'Biodiversity.' Biodiversity looks at increasing awareness in schools of the importance of native plants, animals and habitats
Stay tuned to follow the projects we undertake to promote biodiversity in our school!
September 2022
We are very lucky to have a wide range of trees planted on our beautiful school grounds.
The first principal of Holy Family JNS, Brendan Mc Cormack, made a plan for the school grounds very early on that included the planting of many varieties of Native Irish Trees, and many more have been planted in the 40 years since.
In an attempt to make the identification of these trees easier for the children, teachers and parents in our school we have begun the process of creating a Tree Trail using QR Codes.
These link to the school website where information on the trees can be found. By simply scanning the codes using a phone or tablet, we can easily see the name of the tree, its identifying leaves, flowers and fruit and some further information about the species.
Many classes enjoyed trying out this tree trail on National Tree Day, October 6th, and in the weeks since. We chose 12 trees initially to have the codes but we will hopefully add to this and make the codes a more permanent feature in the months ahead.
If you see a QR code on any of our lovely trees feel free to scan them and learn more about the Holy Family trees with your children.
Click here to see pictures of the children using the QR codes to learn about our trees!
Spring 2022
In Winter 2021 we signed up for an initiative called DCs for Bees, which meant we received 5 fruit trees that promote pollination and provide food for many living things.
Orchards play a key role in providing an early food source for our struggling bees as they emerge from winter. To help protect the bees and increase pollination, this initiative aims to plant in excess of 2,000 mixed fruit orchards all over Ireland.
This is part of the All Ireland Pollinator Plan, and we are delighted to have 5 of these fruit trees planted on our school grounds.
We received 3 varieties of Apple trees, a pear tree and a plum tree. Our caretaker Willy, with the help of some teachers and kids, planted these in Spring 2022 and they are already thriving.