Green Flag 1 - Sept 2012 to June 2014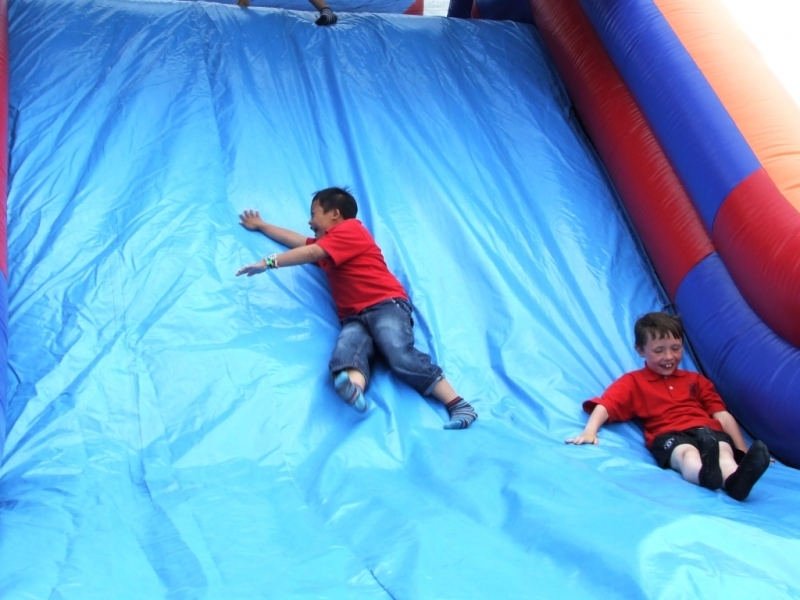 June 2014: Update:
After all our hard work over the past two years, the big day finally came on June 20th, when we proudly raised our first Green Flag in the school grounds. It was a fantastic occasion - we began the day with the flag ceremony itself with the whole school and parents out in the carpark. Mother Nature smiled on us as the weather was very kind and stayed fine for the day!! The "Holy Family Céili Band" as they have become known, led the children in singing our "Green Song" - specially composed lyrics to the tune of the "Rattlin' Bog"! To celebrate the occasion and reward everyone for their commitment to the project, the day continued with a "Fun Day" which included Bouncy Obstacle Courses, goodies and a whole range of outdoor activities. Even some of the teachers were brave enough to have a go on the bouncy courses (have a look at the pictures below or in the full Gallery section - Click here). Congratulations to all, as we continue to say "We are Keen to keep it Green".
April 2014: Update:

A big "THANK YOU" to all the Parents (and children) who turned out on Saturday morning, the 5th of April, to help with the annual clean up of the bushes outside the school. Because we had so many strong Dads (!!) there to help, we also managed to edge the grass verges outside the school gates. Thank you all so much. Have a look at a few photos of the day by clicking HERE to go to the Gallery section of the website.
March 2014: Update:
Here at Holy Family J.N.S. we are still working hard to keep our school green. The Green School Committee members have been doing a great job ensuring that as little paper towel as possible is used in their classrooms. Some classes are doing so well that they got a special mention from Mr Cunningham!
Over the next few weeks, we are going to be checking to see which classes are best for bringing in their hand towels…will your class be the best!?
Second Classes are hard at it, checking for litter black spots on the school grounds ahead of our clean-up day. This will take place on Saturday the 5th April between 12.00p.m. and 1.00p.m. and we need as many volunteers as possible to help out clearing the litter from the area surrounding the school. Many hands make light work as they say!
February 2014: Update
Following the good news of being awarded our first Green Flag, the Green Schools Committee is still hard at work, helping to keep the school green. The whole school is working together to keep the use of paper towels to a minimum. This week Rooms 22,11,12,13,17,19,20,8 and 4 won prizes for having the least paper towels in their bins. This is made much easier by children bringing in their own hand towels. Well done and keep it up!
In April we will be picking up litter around the school as part of National Clean-Up Day. We will need volunteers on the morning to make it a success. Dates to follow!
There is great excitement in the school about our flag raising ceremony, and we hope to have details soon.
Dec 17th 2013: Green Schools - Great News!!
The assessor from Fingal County Council has visited the school, examined our application and interviewed the children on the Green Schools Committee. She will be recommending that we are awarded our first Green Flag. The Green Schools Committee deserves enormous thanks for the tremendous work they have done. The children in the school have made fantastic efforts in reducing and recycling waste. Well done to everyone !!! The official ceremony will take place in May 2014. Details to follow at a later stage.
Introduction:
Our Green Schools Committee was set up in September 2012, with a view to obtaining our first green flag - "Litter and Waste" - in May 2014. The committee consists of a mixture of Parents, Teaching Staff and Children, as well as the Caretaker and Principal. Monthly Green Schools meetings were held throughout both 2012 and 2013, with the children having some extra meetings. After a lot of hard work and numerous waste management adjustments, our application has now been accepted by An Taisce and we are currently awaiting our assessment visit.
Environmental Review:
In November 2012, the second class children in Ms. Sheridan's class (Room 20), performed an environmental review on behalf of the whole school. This took place over two weeks. The first week, children threw all lunch waste in the appropriate bins instead of taking it home. For that week, they also stopped using hand towels and instead, used the paper towels provided by the school. Each day, rubbish was recorded and photographed. The second week, children brought all lunch waste home and disposed of it in the appropriate bins. They also stopped using paper towels and instead, used their own washable hand towels. Again, results were photographed and recorded. Results for both weeks were then analysed and compared. A PowerPoint Slideshow was created to display the review and the results. To view the slides, please go to the Gallery section above and choose "Environmental Review - Green Schools" or click HERE.
Action Plan:
We are continuing to work to reduce our paper waste, raise awareness of recycling and cut down on litter. You can help us by ensuring children have their hand towels and reduce packaging in their lunch, as well as encouraging recycling and litter awareness at home. All volunteers would be greatly appreciated at our Spring Clean in April 2014.
National Spring Clean:
Following a litter survey carried out by the children in second class in March 2013, several litter black spots were identified around the school grounds. On April 18th, there was a school clean up organised where the whole school targeted litter black spots inside the school grounds. Following this, on April 20th, we had a National Spring Clean, targeting litter black spots just outside the school grounds. Many of the parents, teachers and children took part in this very successful day. There are some pictures below and to see the full collection, please go to the Gallery section above and choose "School Litter Clean-up Day" or click HERE.