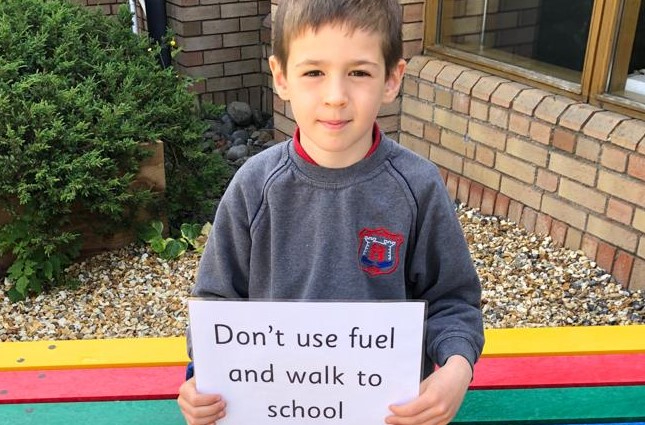 Green Flag 4 - September 2019 to September 2021
Our Fourth Flag: Travel
September 2019
Both adult and pupil committees have been set up, charged with the task of spreading the message to walk to school instead of coming by car. We also are continuing with our litter, energy, water reduction and conservation. The children continue to embrace the challenge with great enthusiasm.
Update February 2020
Rachel Mackeral our "Travel Officer" from Fingal Co. Council visited the school on Wednesday 22nd February. She went on a Walkability Audit survey with the children from Ms Mc Cabe's class. The results of the Audit are displayed on our Green Schools Noticeboard.
You can download the Audit Report below by clicking on the PDF link.
Update March 2020
Rachel Mackeral is due to visit the school on March 25th to do workshops with the children. We will be doing mapping. We are all looking forward to her visit.
School Closure March 12th due to Covid 19.
Update September 2020
The adult committee remains the same as last year. This year every class is on the Green School committee as due to Covid restrictions we cannot mix class bubbles. We are doing our 1km a day around the block of the school.
Update June 2021
We continue to work towards our 4th Green Flag for "Travel" having resumed school following the most recent COVID-related closure. We have been having great numbers turn out for our "Walk On Wednesdays" project. We are hoping for a final push and to maintain and even grow these numbers in the final few weeks, as we hopefully have better weather, in the runup to the holidays at the end of June. Walking boots on everyone, best feet forward.........
....and finally, on June 18th, we all took to the playgrounds to perform the "Cha Cha Slide", with the whole event filmed by drone, thanks to Mr. Culleton. It was a spectacular outcome - you can see for yourself by cliking HERE.
NEWSFLASH:
Hot off the presses - just as school closes for the summer holidays, word has reached us here at HFJNS.IE, that the school has been granted its 4th Green Flag, for Travel! Well done everyone - something to celebrate when we return in the Autumn!
Downloads
Click on a link to download