Green Flag 2 - Sept 2014 to June 2016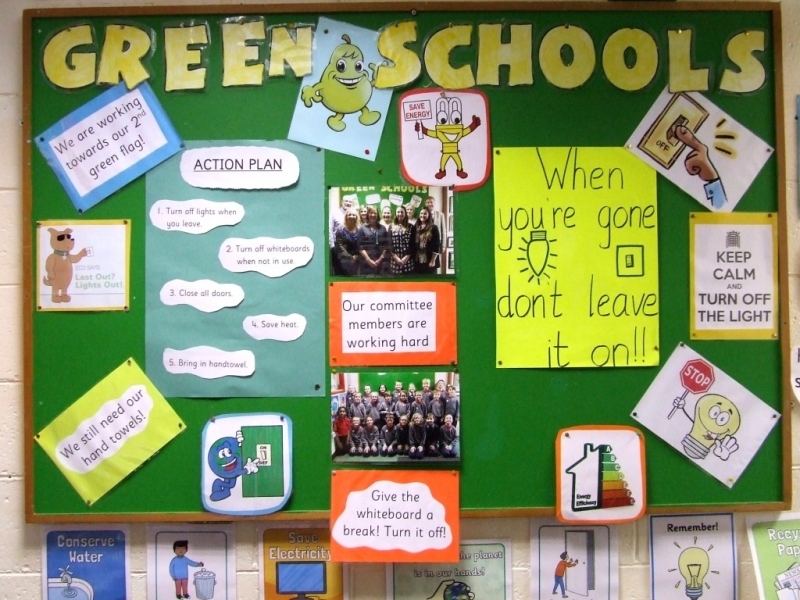 Update March 2016
"ENERGY ACTION DAY" – As part of our second Green Flag, under the theme of "Energy", we had an "Action Day" to reduce our energy consumption. This day happened on Thursday 25th February 2016. All Interactive Whiteboards, laptops, CD players, photocopiers, lights and printers were left turned off for the entire morning. Heating was also turned down by one degree. Doors were monitored to maximise heat retention. We had a great experience and this allowed us the opportunity to compare school as it was in the past with how it is now. We took some photos (cameras had rechargeable batteries in them!!) to record our energy saving morning and they can be seen in the GALLERY section of this website.
"SPRING CLEAN-UP DAY 2016"
The Green Schools Committee will next be organising a Spring Clean-Up Day and we will be looking for Parent volunteers to help out. This 'Spring Clean' will take place on Saturday 23rd April 2016. The committee will be in touch with parents after the Easter Holidays.
Update February 2016
The Green School Competitions have been hugely supported by the children and have focused great attention on this year's Green Flag Project.
We had lots of colourful pictures from the Infant Classes. We have a winner from each class and all the winning pictures are displayed in the foyer.
The Slogan Competition was equally well supported and made judging a difficult job for the committee. Fourteen were printed and displayed in the foyer, with Sally Higgs Twomey's entry chosen as overall winner and our slogan for the Green Schools Project
"WHEN YOU'RE GONE, DON'T LEAVE IT ON"
We are looking forward to a visit from Gillian Taaffe on February 17th when we can show how well we are doing on our journey towards our second Green Flag.
Update December 2015
We will have two Green Schools Competitions for the pupils, a colouring competition for Infants and a Slogan Competition for First & Second Classes. This will provide our slogan for the Green Flag Project. These competitions will be held after Christmas.
Update January 2015
Both adult and pupil committees have been formed, meeting every month, both charged with the task of spreading the message to reduce and conserve energy. The children have embraced the challenge with the same great enthusiasm they showed last year
The adult committee, headed by Ms Fitzsimons and Ms McNally have begun work on the application for our flag and motivating the whole school community to get involved.
Pupil representatives from each class have been chosen assisted by a rotating group of three or four classmates. Together they keep a checklist of Green targets and report back on progress.
Our Second Flag - Autumn 2014 Update
Having raised a first Green Flag for the school last year, we decided to continue the Green initiative and go for the second flag, beginning this year. The theme is ENERGY. The process takes two years and we hope to raise this flag in 2016