Kumar Dress Design Company!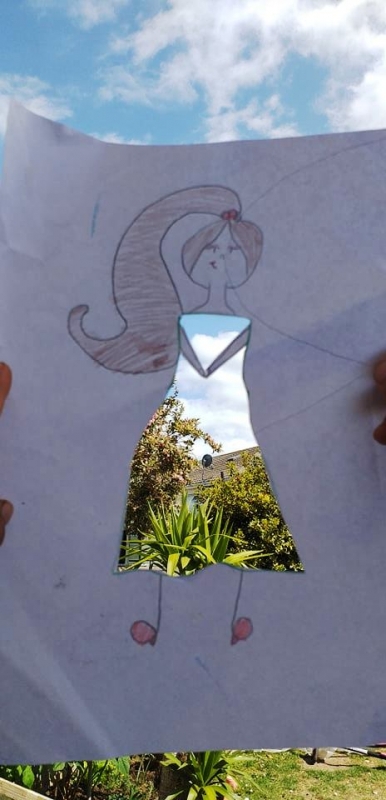 Are you looking for a cool, new dress design for this lovely summer weather we have been having? Well, look no further than these very clever and stylish ideas from the Kumar girls - Ina Kumar in Mr. Clarke's 2nd Class in Room 16 and her sister Sophia Kumar in Ms. Burke's Junior Infant Class in Room 2. Not so much camouflage clothes as just blending in beautifully with your surroundings. They are all so pretty and bright looking....love the 3-D effect going on with some of them! The "models" all have great hairstyles too.... not everyone can say that at the moment!!
If I had to pick a favourite (very difficult task) I think it might be the one on the right here, which is like a window on the garden.....but they are all great. You could all probably have a go at this.....some pens and paper, a scissors, a camera and off you go. Maybe not only dresses....how about shorts and T-shirts, tracksuits or even babygrows? Endless possibiities.
Well done Ina and Sophia - thanks for sharing this great idea.
(Click on the photos below for a "fashion (slide)show" - or right click a picture to open in a new full tab or window. From the HomePage click first on post title or image above).