General Information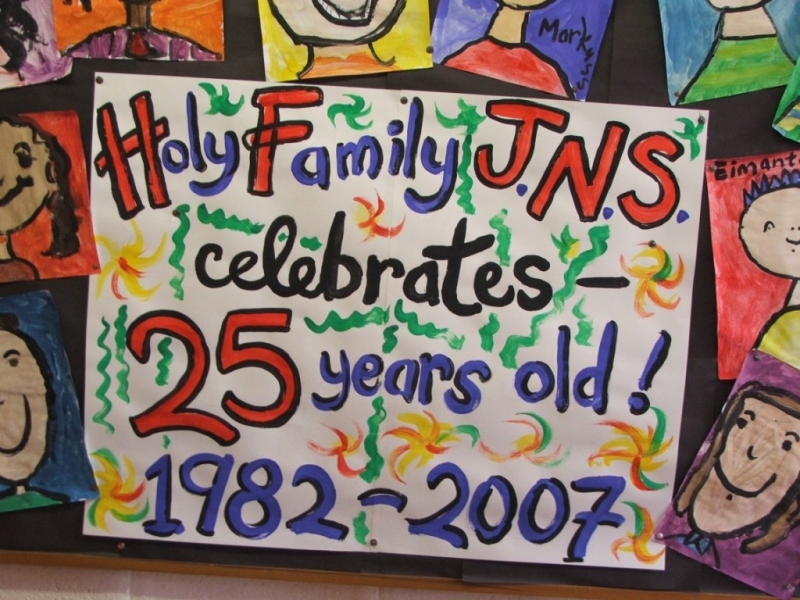 INTRODUCTION

This is a co-educational Junior Primary School with classes from Junior Infants to Second Standard. The school was established in September 1982 under the patronage of the Catholic Archbishop of Dublin. This is a state-funded school i.e. it receives Grants from the Department of Education and Science for Maintenance, Heat/Light, Secretary/Caretaker, etc. The Board of Management employs a Full-time Secretary. It also employs a Part-time Caretaker and 10 Special Needs Assistants (7 Full-time and 3 Part-time).

Teaching Staff

When established the school had a staff of a Principal and 7 Teachers. The current enrolment (30th Sept 2022) is 630 and the staff includes 1 Administrative Principal, 1 Administrative Deputy Principal, 24 Class Teachers and 13 Full-time Special Education Teachers. We are a Droichead school and facilitate the induction of newly qualified teachers.

Board of Management

The school is governed by the Board of Management with eight members: Chairperson, Fathers' Representative, Mothers' Representative, Principal Teacher, Teachers' Representative, Patron's Nominee, and two Members of the Community. The Board of Management is responsible for all aspects of the upkeep and maintenance of the school. It is also responsible for the employment of all staff. Strict accounting procedures are adhered to and all Board of Management accounts are audited annually and forwarded to the Finance Secretariat, Archbishop's House.

Parents' Association

This school has an active Parents' Association which works closely with the Board of Management and they support the school in many areas, especially by fundraising. They meet once a month during the School Year to work on collaborative projects such as: Fund Raising, Spring Day, First Communion, Junior Infant Meetings, Sports Day/Sponsored Jog, Yard Painting, School Siopa, Book Fair, Do This In Memory, Reading Initiative/supporting children in class, input into all school plans / policies and Safety Projects.

School Uniform

The School Uniform for Boys and Girls is compulsory and is as follows:

Navy Blue Pants/Pinafore/Skirt, Grey Jumper/Cardigan, Grey Shirt/Blouse and a navy blue School Tie with red stripes.

A School Tracksuit (grey sweatshirt with school crest, red polo shirt and navy sweat pants) is available through Pat O'Farrell Schoolwear Ltd, Airside, Swords.
Children wear their school uniform except on days when they are timetabled for P.E. or are instructed to wear tracksuits.
School Crests are available to purchase from school at a cost of €2.00.

School Opening Times

School assembly is at 8.50 a.m. for all classes. Infant classes go home at 1.30 p.m. First and Second Standard go at 2.30 p.m. The Board of Management, Principal, and Staff do not accept any responsibility for children before 8.50 am or after 2.30 pm unless they are attending an extra-curricular activity organised by authorised school staff.

Croke Park – Under recent Public Service Agreements (C.P. / H.R. / L.R.) all Staff Meetings and Parent/Teacher Meetings will be held outside school hours.

Parent Teacher Meetings

Formal Parent Teacher meetings are held annually, in January/February. This is where each parent/guardian is given an appointment time outside of school hours to meet with their child's teacher. The parent body are given 3 weeks notice as to the date of the parent /teacher meetings. Each teacher completes an appointment card for each parent. Teachers are available right throughout the year to meet parents if necessary.

School Reports

It is school policy that parents receive two School Reports, one oral as above (Parent/Teacher meeting) and one written. A written school report is filled out for each child, and a copy of this report is sent to the parent/guardian at the end of May / early June. This is to allow sufficient time, before the closure of the school for summer vacation, for parents to seek meetings with the principal and/or teacher(s) to discuss the written report if necessary. This report was designed by the staff for this particular school with reference to the guidelines from National Council for Curriculum Assessment (NCCA) and School Development and Planning (SDP).
After School Clubs
Every year there is a wide variety of after-school clubs and activities organised. In the past there has been Art & Craft, Book Club, Speech & Drama, Gaeilge, Sport/GAA Skills, Piano, Tin Whistle, Drums, Chess, Keyboard, Science, and Lego to name a few. Check back here early in the new school year to find out what is available and of course, keep an eye out also for notes coming home in the schoolbags announcing various activities!!