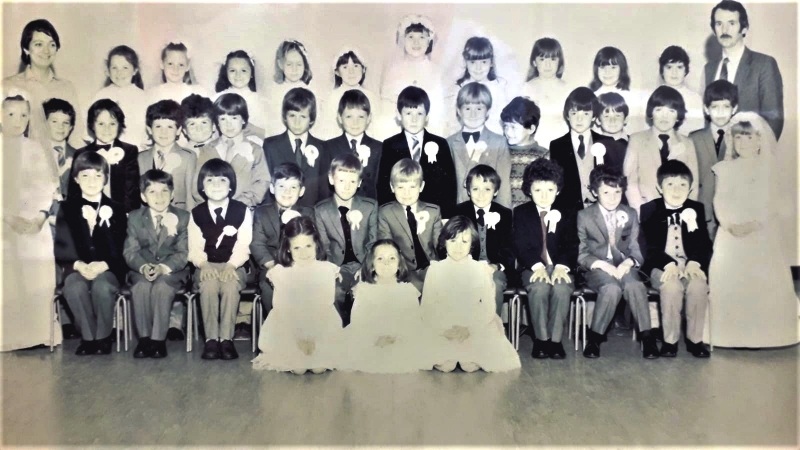 'First' First Communion Day - 1983
This weekend should have seen a very busy day at St. Finian's Church, on Saturday May 16th, with our 6 Second Classes and their families making their way, in their fine clothes, to celebrate their First Communion Day. Sadly, this too has had to be postponed and delayed to another time, due to the need for us all to stay home and stay well for a while more. It is obviously very disappointing for the children, who have been preparing so hard and looking forward to this special day for some time.
First Communion Day is one of those "big" days in a young person's life, just as Junior and Leaving Cert exams are, to name just two others. So many special events and occasions are either being cancelled or postponed at the moment and there are many other, everyday things we all miss doing. So it is normal for us to feel disappointed when this happens. Of course though, we know that this is all for a very good reason. We can look forward to going back to doing the things we love, seeing everybody again and having those missed celebrations on another day. So hopefully, the children and their families managed to mark Saturday in some special way, while looking forward to when the real day would happen, before too long.
The picture on this page looks back at another, special Communion Day - the very first, First Communion class in HFJNS, from 37 years ago, in May 1983! A long, long time before any of this year's children were born! The boys and girls in this photo were in First Class, that's when they made their communion back then. It was the school's first year open and there was just one class for communion. As well as the pupils, you can see their teacher, Ms. Desmond and the school's first Principal, Mr. McCormack. The school has really grown since then, as have these children.....many of them have been to the Communions of their own children by now, some of them in Holy Family!
We have pictures, just like this one, for all the classes who have made their First Communion down through all of those 37 years. We look forward to seeing the pictures for the classes of 2020 - before too long.
(Click on the picture above for the full version)